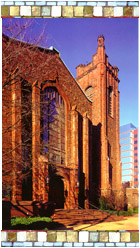 Thanks for visiting our site.
The Judith Richardson Memorial Foot Care Ministry provides basic foot care services to homeless men in midtown Atlanta. We are located on the corner of 16th Street and Peachtree Street, next to the High Museum of Art.
We are open every Wednesday between 3:30 p.m. and 5:00 p.m. on the second floor of the First Presbyterian Community Center. The entrance to the Community Center is on the 16th Street side of the church. Volunteers and Donations of Materials are very welcome.
We are currently experiencing a shortage of men's sneakers (new or lightly used) in sizes 9-12.